Abuse & Assault Services
Service Assisting Male Survivors of Sexual Assault SAMSSA
CANBERRA RAPE CRISIS CENTRE INCORPORATED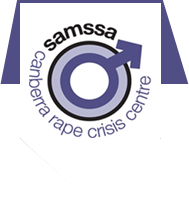 PO Box 3805, Weston Creek ACT 2611
Open Today 7:00 AM to 11:00 PM
Mon 7:00 AM to 11:00 PM
Tue 7:00 AM to 11:00 PM
Wed 7:00 AM to 11:00 PM
Thu 7:00 AM to 11:00 PM
Fri 7:00 AM to 11:00 PM
Sat 7:00 AM to 11:00 PM
Sun 7:00 AM to 11:00 PM
Add to favourites
About Us
Crisis and Counselling Support Line (02) 6247 2525. Text Only 0488 586 518
Phone support between 7am and 11pm, and all counselling related enquiries, including all appointments and referrals.
The Service Assisting Male Survivors of Sexual Assault (SAMSSA) offers:
Counselling support, face-to-face or over the telephone for male survivors
Both male and female counsellors are available
Information about male sexual assault for survivors, their partners, family, friends and supporters
Referral to or information about other useful services
Education for community, school and professional groups about male sexual assault and related issues
Groups for male survivors who are looking to expand their support to include other survivors (when available)
Who can use SAMSSA?
Men over the age of 16 in the ACT and surrounding region recovering from sexual assault or childhood sexual assault
Men of any race, ethnicity, culture, religious belief, sexual orientation, ability or disability
Family, partners and supporters of male survivors who need support for themselves
Organisations, institutions and other professional services wishing to learn more about sexual assault or improve their service delivery to male survivors
Professional, community workers and others working with male survivors who who want information or advice about male sexual assault
SAMSSA DOES NOT PROVIDE SERVICES TO MEN WHO USE SEXUAL VIOLENCE AGAINST OTHER MEN, WOMEN OR CHILDREN
SAMSSA DOES NOT PROVIDE PERPETRATOR COUNSELLING SERVICES OR PROGRAMMES
SAMSSA has worked with hundreds of courageous men, and their families and supporters, and they have taught us a great deal.
It can be very hard for a man to ask for help because of cultural expectations about manhood, fear of ridicule and shame. We encourage male survivors of child sexual assault, and adult men who have been raped or assaulted, to seek support and counselling services. This will assist in lowering the potential risk of long term impacts of sexual assault trauma - including the impacts of living in isolation.
Service Assisting Male Survivors of Sexual Assault SAMSSA has elected to withhold the display of their location on a map
Extra Information
Wheelchair Access Yes
Disabled access This location has disabled access
Accessible By Anyone
Access Fee No fee
Age Ranges Over 16 years of age
Tags
Abuse Counselling, Child Abuse, Crisis Counselling, Sexual Assault
Share with QR Code