General Support Services & Counselling
Arthritis & Osteoporosis ACT
ARTHRITIS FOUNDATION OF THE ACT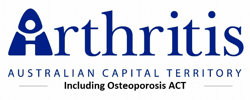 Mon 9:00 AM to 3:00 PM
Tue 9:00 AM to 3:00 PM
Wed 9:00 AM to 3:00 PM
Thu 9:00 AM to 3:00 PM
Fri 9:00 AM to 3:00 PM
Sat Closed
Sun Closed
Add to favourites
About Us
General Support Services
Arthritis ACT provides the following support & services:
Information & Education
Arthritis ACT provides people living in the ACT and surrounding region with information, resources and literature, access to research, a telephone information line, pain management course and website. The foundation also conducts Chronic Conditions Seminars, GP and Pharmacy Education Evenings.
It also provides:
Membership to the Association
Quarterly Newsletters
Support Groups for Arthritis, RA/Sjogren's Syndrome, Young Adults (Under 45), Juvenile Idiopathic Arthritis & Osteoarthritis
Exercise Programs - Tai Chi, Hydrotherapy & Strength & Balance
Regular seminars and information workshops
Research
Student Placements
Volunteer Opportunities
Registered under NDIS to deliver services -
exercise classes (individual and group, hydrotherapy and land based), and
dietetic services to adults (but don't cover enteric feeds).
Get Directions
Extra Information
Disabled access Parking, Toilets, Lift Access
Accessible By Anyone
Access Fee Contact us for details
Age Ranges All ages
Facility Notes
Library, information brochures and booklets, self help courses and workshops.
Volunteer Notes
Volunteers Welcome
Tags
NDIS, NDIS Improved Health and Wellbeing, NDIS Provider - Registered, Osteogenesis Imperfecta, Osteoporosis, Sjogrens Syndrome
Share with QR Code
Arthritis & Osteoporosis ACT is a non-profit organisation that aims to improve the quality of life of people in the ACT who are suffering from arthritis, osteoporosis and other musculoskeletal conditions. It was established in 1977 and is affiliated with Arthritis Australia and other State and/or Territory Arthritis Foundations. Our Mission is to be a dynamic, credible and viable organisation providing quality services, contributing to research, and improving the health and wellbeing of people in the ACT and surrounding regions with arthritis, osteoporosis and related conditions. For more information visit our website at www.arthritisact.org.au.
Visit ARTHRITIS FOUNDATION OF THE ACT website
Tweets by arthritisact