Performing Arts & Music
Coffs Harbour Support Services
Coffs Harbour Support Services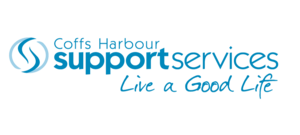 Mon 8:30 AM to 4:30 PM
Tue 8:30 AM to 4:30 PM
Wed 8:30 AM to 4:30 PM
Thu 8:30 AM to 4:30 PM
Fri 8:30 AM to 4:30 PM
Sat Closed
Sun Closed
Add to favourites
About Us
Coffs Harbour Support Services is a not-for-profit organisation established in 1993 by local families and community members. We are committed to building a Community in which people with disability are valued and contributing members and employ values-aligned, passionate, kind and respectful Support workers - compatible with your individual NDIS goals and personality.
We offer a range of services and supports and innovative activities within the Greater Coffs area. We are committed to the National Standards for Disability Services, which focus on person-centred approaches and promote choice and control by people with disability.
We provide Supported Independent Living (SIL) services to clients in a number of homes across Coffs Harbour. We work with clients to explore what options are available and how we can assist our clients to live as independently as possible and to meet their goals.
Our Community Participation Program operates Monday to Friday and provides a range of activities such as: Photography and film making, Fishing club, Art and music therapies, Health and fitness, Sport and recreation, Specialist literacy and numeracy skills, Computer skills, 'Fix it' club (in partnership with the Coffs Harbour Men's Shed), The Red Hots Band, Micro-Business support.
Our Drop In Support Services will help you develop and maintain independent living skills to achieve the goals set out in your NDIS Plan, such as: Cooking, Cleaning, Budgeting, Shopping, Medication management and access to community and health services.
Link to our Website: https://www.chss.org.au/
Link to our Facebook page: https://www.facebook.com/CoffsSupport/?eid=ARBIMSGFRHV3HNv9eO2PCW-0f3BCL1cOUEeFj5zYwDF6NJ4IS54sIud7Tme0EzsWzCGJ8DUJjvMM-0R7
Link to You Tube: https://youtu.be/nJEcWMloAR4
Andrew's MicroBiz - Love scented candles
View
Barry and his mate, Georgie
View
Brett McNally's Micro Business where he designs and makes wooden bird houses and chopping boards.
View
CHSS celebrates 2019 International Day of People with Disability
View
Kristie's travel Goal
View
Scott Fleming enjoys an outing at the driving range, calling himself "Norm" after his idol, Greg Norman.
View
The Red Hots band recorded (cover of Justin Timberlake's 'Can't Stop the Feeling')!
View
Quick Facts About The Region
Similar Providers Nearby
Get Directions
Extra Information
Wheelchair Access Yes
Online Service Yes
Phone Service Yes
Accessible By Approved service users
Access Fee Contact us for details
Age Ranges From 17 to 65 years of age
Tags
Accommodation placement and/or support, Activities, Affordable Housing, Art Therapy, Arts and Crafts, Aspergers, Attention Deficit Hyperactivity Disorder, Autism, Bands and Choirs, Bushwalking, Cerebral Palsy, Charity Organisations, Cleaning, Complex Needs, Computers, Cooking, Dance, Developmental Delay, Disability day programs & activities, Disability Support Services, Disability supported accommodation, Down Syndrome, Drama and Theatre, Education, Epilepsy, Film and Movies, Fishing, Fitness, Golf, Group Fitness, Gyms and Fitness Centres, Health and Wellbeing, High Needs, Human Rights, Improved Learning, Improved Life Choices, Improved Relationships, In-Home Support, Indigenous, Indoor Bowling, Intellectual Disability, Life Skills Courses, Literacy and Numeracy Programmes, Markets, Mens Shed, Music, NDIS, NDIS Assistance with Daily Life, NDIS Assistance with Social and Community Participation, NDIS Home, NDIS Improved Daily Living Skills, NDIS Improved Health and Wellbeing, NDIS Improved Living Arrangements, NDIS Improved Relationships, NDIS Provider - Registered, NDIS Specialist Disability Accommodation, Road Safety, Supported Accommodation, Swimming, Transport, Volunteering, Walking, Woodworking, Work Experience, Yoga
Share with QR Code