General Support Services & Counselling
Making Connections Together
Making Connections Together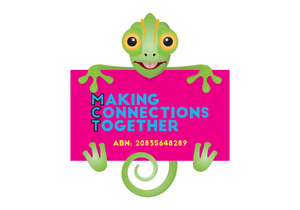 Mon 9:00 AM to 5:00 PM
Tue 9:00 AM to 5:00 PM
Wed 9:00 AM to 5:00 PM
Thu 9:00 AM to 5:00 PM
Fri 9:00 AM to 5:00 PM
Sat 9:00 AM to 5:00 PM
Sun 9:00 AM to 5:00 PM
Add to favourites
About Us
Counselling and support. I offer counselling and support in your home or online.
Private Clients (Non NDIS Clients):
Consultation, counselling and support at $150 per hour
DBT Therapy sessions at $175 per hour
$75 per letter
$750 for court reports
$150 per hour to a maximum of $600 for attending court or hearing as an advocate
$100 per hour to a maximum $400 as a support worker as required
Cancellation Policy:
No charge if more than 24 hours' notice is given of cancellation
50% of the total fee if less than 24 hours' notice is given
Full fee is payable if no notice is given of cancellation
Similar Providers Nearby
Making Connections Together has elected to withhold the display of their location on a map
Edit Listing
Not Correct? Tell Us ...

Extra Information
Online Service Yes
Accessible By Anyone
Access Fee Full cost
Age Ranges All ages
Transport Notes
We meet with clients in their own homes and in the community
Facility Notes
We meet with clients in their own homes and in the community
Tags
Abuse Counselling, Allied Health, NDIS Coordination of Supports, NDIS Finding and Keeping a Job, NDIS Improved Daily Living Skills, NDIS Improved Life Choices, NDIS Increased Social and Community Participation, NDIS Provider - Registered, Reiki, Social Work
Share with QR Code
About Making Connections Together Making Connections Together is a NDIS registered Social Work practice in the ACT, NSW and Victoria. NDIS Provider No. 4050029754 Making Connections Together (sometimes known as MCT) has been open since 7 July 2015. Michel Hansen is the owner of MCT and has been a Social worker for over 11 years, working in Hospitals, Care and Protection Service and Mental Health (Community and Inpatients). Michel is also experienced in delivering workshops and training and is dedicated to social change. Michel has interests in Transcultural Mental Health and supporting the LGBTIQ community. Michel is a qualified DBT Therapist Michel has received training in Emotional Freedom Tapping (EFT), Drumming Circles and is a Doterra Essential Oils distributor. All these services are now available from Making Connections Together. Michel has completed 'So Safe', Kids Central and DBT Training. Michel remains up to date by attending regular training, workshop, networking and NDIS training to ensure they provide the best quality of care for her clients. Services MCT aims to deliver services that are responsive to our Clients needs and currently offers services such as Emotional Understanding, Behaviour Supports, Social Integration, Managing Anxiety, Managing Sexual behaviours, DBT, CBT, Mindfulness and Relaxation and much more. Contact Michel to discuss your needs. Making Connections Together can also provide staff training in Behaviour training, Self-care, Mediation and Mental Health Making Connections Together is currently a NDIS Registered Provider and can claim through the following categories, Support Coordination, Assist Life Stage Transition, Early Childhood Support, Therapeutic Supports, Behavioural Supports, Innovative Social and Community Participation, Assist, Assess, Maintain Employment. MCT can assist under some categories in NSW and Victoria. Availability Making Connections Together's aim is to be as non-intrusive to a person's life as possible. Meetings can be arranged at times and locations most suitable for the client and family (outside of regular business hours by prior arrangement). Our Office hours are Monday to Friday 9-5pm Group work will be offered by MCT in the near future with an emphasis on relaxation, mindfulness, budgeting and understanding mental illness. When available this will be displayed on our website.
Visit Making Connections Together website