General Self Help Services
Public Speaking and Leadership Academy
Public Speaking and Leadership Academy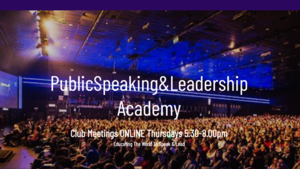 Add to favourites
About Us
PSL Academy is based in Wanneroo our Vision is to: Allow our members to become prestigious speakers with a message!
All the while teaching the world to communicate and To become great leader's.
Developing the most trusted & respected community based organisation in the world.
We operate every Thursday online via Zoom
Check our Facebook page for more Information facebook.com/psleadershipacademy.
Welcome to our Public Speaking & Leadership Academy
Our Names are Jacqui Huntley & Jan Murdoch, we are the founders of this Academy along with the Leadership Development Programme and InnerCircle Masterminds. We follow David Phillips JP University & are Knowledge Brokers for Tony Robbins and Dean Graziosi
We do this with the sole focus of delivering you the capabilities to be more effective, efficient and go faster in scaling your impact and success in the best industry on the planet, by becoming a prestigious "from the heart speakers with a message"!
We meet; Most Thursdays of the week (Closed on public Holidays and over Christmas)
at 5.30pm-8.00pm. online via zoom
The first two nights are free for new members to visit the club and see if it's fit.
So come along.
There is no pressure to speak and we will be excited to meet you and watch you transform into a confident communicator and a productive happy confident person, which is where we can develop your speaking & leadership skills from.
Once you have completed your two nights free of charge you will need to sign up on the member tickets cost per evening is $10.00. (we have a discounted annual fee on Eventbrite too.
If you are looking for a fun way to improve your communication & build leadership skills to help you grow as a person?
We run our weekly online meetings which allow you to lean the art of speaking to an audience in a supportive and comfortable setting.
Our education programs allow you to leverage practical workplace skills, including:
Interview preparation
Leadership development,
Conflict resolution,
Public speaking,
Stage and storytelling.
We teach and prepare you for 16 minute Ted style talks.
Confidence building,
Self Leadership
Strategic planning
Avoid death by PowerPoint.
Tech tools to improve your online community communication.
Public Speaking and Leadership Academy is an online community educational programme.
We host the most cost effective training on the planet.
To learn more, or to catch up,
Visit Facebook: https://www.facebook.com/psleadershipacademy
Podcasts:
http://www.buzzsprout.com/984094
YouTube channel:
https://www.youtube.com/channel/UCgA64XNHx7Zj6szIr0f_iDg?view_as=subscriber

Public Speaking and Leadership Academy
website
http://www.facebook.com/psleadershipacademy

Eventbrite
http://publicspeakingleadershipacademy.eventbrite.com

Zoom
zoom password 555444
Build your future today! With the Public Speaking and Leadership Academy.
Please ask Jacqui or Jan for more details or drop us a text below)
0433606536
Warmest regards,
Jacqui & Jan,
We look forward to meeting you?


Public Speaking &Leadership Academy What we do?
Get Directions
Extra Information
Online Service Yes
Accessible By Anyone
Access Fee Contact us for details
Age Ranges All ages
Meeting Times
We meet at 5:30 PM on Thursday each Week
Eligibility Notes
must want to improve your speaking skills and learn to be an effective leader
Tags
Assistance with Education, Leadership, Public Speaking, Training & Vocational Education
Share with QR Code