General Education Programs
123 Soleil - French for Little Ones
123 Soleil - French for Little Ones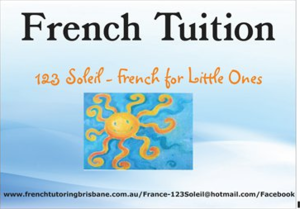 Mon 9:00 AM to 4:30 PM
Tue 9:00 AM to 4:30 PM
Wed 9:00 AM to 4:30 PM
Thu Closed
Fri Closed
Sat Closed
Sun Closed
Add to favourites
About Us
Native French speaker with over 10 years' experience as Childcare Educator, I offer high quality, affordable French classes in small group settings for children.
Business insurance, Blue Card, First Aid Certificate and COVID-19 Certificate up-to-date.
Choose the French class that suits your child best!
Option 1 Small learning group
3 classes held every Mondays, Tuesdays and Wednesdays 10.30 am to 11.30 am, 1.30 pm to 2.30 pm, 3.30 pm to 4.30 pm.
Maximum 7 children per class.
Option 2 One on One tutoring
Held every Mondays, Tuesdays and Wednesdays. Email Odile to arrange and book a time.
Option 3 Immersion Day
123 Soleil – French for Little Ones, are pleased to announce a French Immersion. A great opportunity to speak French all day!
Every Mondays, Tuesdays and Wednesdays, the French Immersion program will commence at 9 am to 3.30 pm.
Parents have to pack for their child:
*a lunch box for morning tea and lunch;
*a water bottle;
*spare change of clothes;
*hat and sunscreen.
Afternoon tea will be offered at the end of the day (3 pm) as a French cooking session will be included.
During that French Immersion, your child/children will be talked in French, encouraged to use French words and taught in French.
Early life brains absorb a foreign language at an impressive rate. Your child will benefit enormously of that learning opportunity.

At 123Soleil, we know that children need to be entertained in order for their high language-learning potential to manifest. My program uses lots of action chants, songs, stories and games to keep children engaged.
The benefit of a small group for your child is the time, focus and exposure to the language when actually using it together. In a fun method of teaching, hands-on activity and simple actions to reinforce the key words provide opportunity for your children to learn independently.
Don't think twice, book now as places are limited.
Similar Providers Nearby
123 Soleil - French for Little Ones has chosen to only show the suburb their service is based in.
Extra Information
Disabled access This location has disabled access
Access Fee No fee
Age Ranges All ages
Languages French
Share with QR Code