General Ageing Services
Focused Health Care
FOCUSED HEALTH CARE PTY. LTD.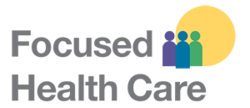 Add to favourites
About Us
In-Home Aged Care
Focused Health Care provides affordable and accessible in-home care services for older people, supporting them to live independently at home and within their community. We specialise in the development of flexible support options to meet your individual needs. Our dedicated team will support you to maintain your well-being and to continue living safely, independently and confidently in your own home. We will work closely with you to assist you to plan the support services that best meet you and your family's needs. Our staff make it easy for you and your family to ensure the right supports are provided to you by the right people. Our In-Home Care Services Include:
Personal Care
Medication Monitoring
Meal Preparation
Domestic Assistance
Social Outings
Transport
Exercise and Balance Programs
Assistive Technology
Mowing and Gardening
Nursing Services
If you or a member of your family requires nursing services that can only be delivered by a Registered Nurse, Focused Health Care has experienced Registered Nurses and Enrolled Nurses to assist with the delivery of any client care services in the privacy of your own home.
Focused Health care will provide you with the very best nursing in-home care service possible. With our diverse team of highly skilled and passionate staff we can deliver the following to our clients:
Wound Care
Showering
Medication Management
Care Planning
Palliative Care
Focused Health Care provides quality care at the end of life by supporting individuals living with a terminal illness, their family and carers. We have specialised Palliative Care Nurse Practitioners who will work in partnership with specialist practitioners, in providing nursing care for clients in their home supported by choice in Advanced Care Planning, so that the individual formulates and communicates their "personal" desires and preferences for a quality end of life, supported by their family and their carers. Focused Health Care staff will support the individual and the family to appropriately manage the physical (pain and other symptoms), emotional, social, cultural and spiritual aspects of terminal illness with skill, dignity and respect.
Flexible Care: Respite
We can provide a flexible and comprehensive service to enable you to have a break from your role as carer. In home respite focuses on lifestyle activities that are enjoyed by the client and may include personal care, meal preparation and social activities either in the home or out in the community
Diabetes Management
Focused Health Care can provide access to their team of skilled health professionals including a Diabetes Nurse Practitioner to offer advice about diabetes self –management, ordering products and how to access them, as well as information on services available in your local area. Additionally, Focused Health Care will facilitate programs and activities for people with diabetes such as healthy eating programs, group support programs, such as peer support for people with Type 1 diabetes or young people with diabetes, fact sheets, brochures and other resources about diabetes.
Disability Services
As an NDIS Approved Provider, Focused Health Care can tailor disability services based on clients individual goals and aspirations. We work together with the client to help them achieve them, via our flexible, integrated and individualised services.
Rehabilitation Services
Focused Health Care's Day Rehabilitation programs are specifically designed to meet individual needs. The programs involve one-on-one individual therapies, group education and exercise groups. For example, these rehabilitation services may include functional therapeutic programs to restore functionality, falls prevention, strengthening and reconditioning classes and balance groups.
Additionally Focused Health Care provides clients with a nutritional assessment and education or access to their range of home community services. Programs are provided for clients who have recently experienced an acute illness, a surgical procedure, have a chronic condition, to improve their strength, endurance and balance in doing everyday activities of daily living.
Private Services
Focused Health Care will provide a range of private fee for service home and community support care services at realistic prices when care is needed on a short-term, temporary basis or longer term, ranging from 2-hour visits to round-the-clock care. Private services such as occasional care can be provided in the days and weeks following a fall, hospital stay or illness, or just every now and again when household jobs are mounting up. Our Focused Health Care trained, professional staff can visit your home and provide care and support as you require it.
Quick Facts About The Region
Get Directions
Extra Information
Referral Required Contact us for details
Accessible By Approved service users
Access Fee Contact us for details
Age Ranges All ages
Tags
Aged Care, Aged Care Transport, Community Care, Home Care Packages, Home care/housekeeping assistance, Home Nursing, Home Nursing Services, NDIS, NDIS Assistance with Daily Life, NDIS Coordination of Supports, NDIS Home, NDIS Plan Self-Management, NDIS Provider - Registered, NDIS Transport, Nursing
Share with QR Code