General Communication & Information
Knit4Charities
knit4charities INC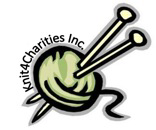 Add to favourites
About Us
Knit4Charities Inc. is an Australian Internet based association of dedicated knitters, crocheters, sewers and other crafters, who give warm clothing and comforting items such as blankets and toys to needy people throughout our Country.
We give our items free of charge to any needy person (or animal) with no discrimination. If someone is in need and we can help in any way, we do so.
The aim of the Knit4Charities Inc. is to share ideas and patterns, give support and friendship to fellow volunteers, and together source needy charities around Australia.
We encourage charities to contact us if they are in need of any of the items we produce. It is better for us to know exactly what a charity needs or would like than to simply overload them with goods they either dont want or need to store.
Women's Shelters, Homeless Support, Young Parents Support, many areas of Hospitals - premmie baby NICU, Oncology, Rehabilitation Services, Mental Health, etc. etc. etc., Wildlife and Animal Rescue, Aged Care -- the list is endless.
Please contact us if we can help you and your clients.
Quick Facts About The Region
Knit4Charities is located in the suburb of
Eagleby
, the council of
Logan
, the state electorate of
Macalister
and the federal electorate of
Forde
.
Similar Providers Nearby
Get Directions
Extra Information
Accessible By Members only
Access Fee No fee
Age Ranges All ages
Share with QR Code