Local Advocacy Services
Independent Advocacy NQ
Independent Advocacy NQ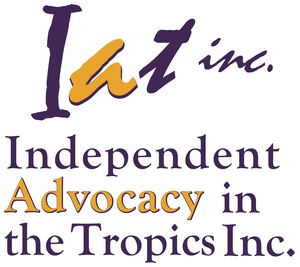 Mon 8:30 AM to 5:00 PM
Tue 8:30 AM to 5:00 PM
Wed 8:30 AM to 5:00 PM
Thu 8:30 AM to 5:00 PM
Fri 8:30 AM to 5:00 PM
Sat Closed
Sun Closed
Add to favourites
About Us
Mission and Objectives
The Mission Statement of Independent Advocacy in the Tropics Inc., (IATI) is to stand with and for vulnerable people with disability through vigorous independent advocacy.
Our Objectives are to:
provide solutions through the application of advocacy principles, to enable people with disability to redress unjust circumstances, and to make positive and equitable changes for a quality life;
provide confidential and high-quality advocacy that strives for people with disability to achieve personal goals without harmful effect;
analyse critically and respond to community attitudes, practices and service models that create dependency and segregation from the community and that impact negatively on people with disability;
support individual advocacy in ways that are creative, responsive and flexible; and
undertake systemic advocacy that pro-actively and assertively seeks to influence positive change to policies and procedures that affects the lives of people with disability.
Services
General Advocacy issues including but not limited to:

Aged care issues;
Issues with Service Providers and Services;
Government Department issues including Centrelink, Pensions, Education etc;
Qld Health including Mental Health Units & Rehabilitation Centres;
Residential Care Facility issues;
Issues relating to Public Trustee or Public Guardian

NDIS Appeals Advocacy - IATI has been appointed by the Department of Social Services to provide special advocacy assistance for those under the National Disability Insurance Agency's National Disability Insurance Scheme (NDIS). We have specialist advocates known as an NDIS Appeals Support Officers who will provide specialist advocacy support to participants (with or without legal representation) who wish to challenge NDIS decisions in the AAT.
Advocacy assistance in your Legal Proceedings

Administrative Appeals Tribunal (AAT);
Legal/justice proceedings;
Mental Health Review Tribunal;
Queensland Civil and Administrative Tribunal (QCAT);
Target Group for Advocacy Support
People of any age, gender and cultural identity with disability who are in vulnerable circumstances in our service region.
Target Group for Alliances and Information Provision
Those people, groups, and agencies who share IATI's vision for people with disability, and who are involved in, or have the potential to become involved in, supporting people with disability through advocacy, inclusive and respectful service provision, and leadership within the community.
Quick Facts About The Region
Get Directions
Extra Information
Wheelchair Access Yes
Disabled access building access, parking, toilets
Referral Required Self or Third Party Referral
Online Service Yes
Phone Service Yes
Accessible By Anyone
Access Fee No fee
Area Restrictions - Services delivered via phone, email and skype. - Private Client meetings are conducted when required and is subject to the availability of adequate funding. - Regional visits are conducted and are subject to the availability of adequate funding.
Age Ranges All ages
Languages Italian
Eligibility Notes
Please advise when making referral or before attending if you require us to book Translation (what language) and/or AUSLAN services.
Tags
Advocacy, Disability, Disability advocacy, Disability information/referral, Mental health advocacy, NDIS
Share with QR Code