Home Care & Safety Services
Daily Safety Check-in Call
Care Calling Now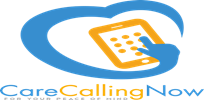 Add to favourites
Care Calling Now
Service Change
Business operates 24/7 New Enquiries Normal Office Hours
About Us
"Help I've fallen & can't get up."
CareCallingNow is a leading provider of proactive care calls direct to your home to check if your loved ones are OK, giving "You Peace Of Mind" knowing that your loved one, living home alone, is OK.
CareCallingNow can call as many times as needed every day, at whatever time is most convenient for your elderly parent or loved one to reassure you, to check that your loved one, is safe & secure in their own home.
This CareCallingNow service doesn't rely on your loved one wearing a pendant or wrist band.
Being able to respond by pushing the alert button when you are down & out.
A pendant type alarm assumes they are able to use the alert device
To provide you and your loved ones with the best possible level of response CareCallingNow makes automated calls to your loved ones who must answer their phone to let us know they are OK EVERY DAY
The service is usually provided once every 24 hours but can be used as many times as required to ensure your loved ones are OK.
No special equipment is required, your normal house phone, mobile or VOIP are all suitable
All this for LESS THAN ONE Dollar per day

This CareCallingNow service is suitable for;
Primarily designed for older folk living by themselves and wishing to remain living safely independently.
Elderly couples especially where one is the primary care for an incapacitated partner.
People who have fallen or have a number of falls
Single people of any age where they might want a loved one the arrived home after work and ar OKAY
People worried about what happens to pets should they die and not be found immediately.
Learn more reason people use a daily check-in call here>>>
CareCallingNow Cares
An Automated Daily Care Call for YOUR PEACE OF MIND.
Your Loved One/s are Called EVERY DAY
Up to 2 Alternate Numbers Included
NO Contracts* – you can cancel anytime
NO Setup Cost
If the call isn't answered then help will be called
Care Calling Now has elected to withhold the display of their location on a map
Extra Information
Online Service Yes
Phone Service Yes
Accessible By Anyone
Access Fee Contact us for details
Age Ranges All ages
Transport Notes
No Transport Necessary All services available online Worldwide
Facility Notes
No Transport Necessary All services available online Worldwide
Tags
Home Safety, Personal alarms/alerts, Personal Safety
Share with QR Code
https://carecallingnow.com CareCallingNow is a leading provider of proactive care calls direct to your home to check if your loved ones are OK, giving "You Peace Of Mind" knowing that your loved one, living home alone, is OK. CareCallingNow can call as many times as needed every day, at whatever time is most convenient for your elderly parent or loved one to reassure you, to check that you loved one, is safe & secure in their own home. CareCallingNow doesn't rely on your loved one wearing a pendent or wrist band and being able to respond by pushing the alert when you are down & out. - assumes they are able to use the alert device To provide you and your loved ones with the best possible level of response CareCallingNow makes automated calls to your loved one who must answer their phone to let us know they are OK The service is usually provided once every 24 hours but can be used as many times as required to ensure your loved ones are OK. No special equipment is required, you normal house phone, mobile or VOIP are all suitable All this for ca. ONE Dollar per day https://carecallingnow.com
Visit Care Calling Now website
Tweets by CareCallingNow