Child Youth & Family Health
Kidsafe WA
Kidsafe WA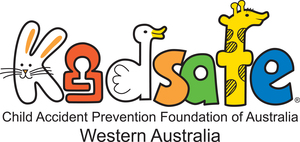 Open Today 9:00 AM to 4:30 PM & 12:30 PM to 1:00 PM
Mon 9:00 AM to 4:30 PM & 12:30 PM to 1:00 PM
Tue 9:00 AM to 4:30 PM & 12:30 PM to 1:00 PM
Wed 9:00 AM to 4:30 PM & 12:30 PM to 1:00 PM
Thu 9:00 AM to 4:30 PM & 12:30 PM to 1:00 PM
Fri 9:00 AM to 4:30 PM & 12:30 PM to 1:00 PM
Sat Closed
Sun Closed
Add to favourites
About Us
Kidsafe WA is the leading independent not-for-profit organisation dedicated to promoting safety and preventing childhood injuries and accidents in Western Australia. Kidsafe WA works in the community to educate and inform parents and children on staying safe at home, at play and on the road.
We offer a number of workshops, resources and other services in the area of home, road and play safety.
Home Safety:
Resources and child safety products are available for purchase on our online shop.
The Safety Demonstration House at our centre and our Online Safety Demonstration House mirror a typical family home to demonstrate best practice safety measures to protect children. Guided Safety Demonstration House tours are available at our centre.
A range of home safety workshops are available for parents, carers and professionals.
Road Safety:
Kidsafe WA operates the only comprehensive ongoing child car restraint fitting, checking, hiring and advisory service in WA.
The fitting and checking service provides a comprehensive overview of your child car restraint and installation into your vehicle.
The hiring service includes a range of baby capsules, convertibles, combination restraints and booster seats available for hire.
The advisory service provides advice to parents on appropriate child car restraints to suit their child, car and specific needs.
There is a wide range of child car restraints on display at our centre, which are available to purchase both in store and on our online shop.
A range of road safety focused resources, information sessions and courses available.
Play Safety:
Playground Consultation and Audit Services.
Information Sessions, Workshops and Courses.

Quick Facts About The Region
Get Directions
Extra Information
Disabled access This location has disabled access
Online Service Yes
Accessible By Anyone
Access Fee Contact us for details
Age Ranges All ages
Languages Services for culturally and liquistically diverse (CALD) needs.
Transport Notes
Three train stations are within easy walking distance including City West Station, Leederville Station and West Leederville Station. There are also Yellow and Green CAT bus services nearby.
Share with QR Code