General Disability Services
ACT ME/Chronic Fatigue Syndrome Society Inc
ACT ME/CFS SOCIETY INCORPORATED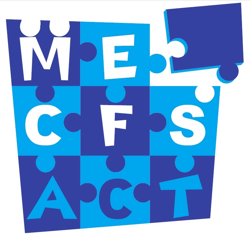 Mon 9:30 AM to 4:00 PM
Tue 9:30 AM to 4:00 PM
Wed 9:30 AM to 4:00 PM
Thu 9:30 AM to 4:00 PM
Fri 9:30 AM to 4:00 PM
Sat Closed
Sun Closed
Add to favourites
About Us
Provides support and information for people affected by Myalgic Encephalomyelitis, Chronic Fatigue Syndrome and Fibromyalgia Syndrome. Quarterly journal; Self Help Courses and Seminars with guest speakers are conducted throughout the year.
Information available for health practitioners and the public. Seeks to raise awareness of Chronic Fatigue Syndrome within the community.
ACT ME/Chronic Fatigue Syndrome Society is a not for profit, self help organisation which exists to give support and help to its members. It provides information about Myalgic Encephalomyelitis (ME) / Chronic Fatigue Syndrome (CFS) and Fibromyalgia Syndrome (FMS) to members, medical practitioners and the public and also promotes research.
ACT ME/Chronic Fatigue Syndrome Society is coordinated by volunteers. The Society is a member of SHOUT (Self Help Organisations United Together) which is a secretariat and first point of contact for several member groups. The Society receives some funding from the ACT Government and the remainder comes from membership subscriptions, donations and fundraising ventures.
ACT ME/Chronic Fatigue Syndrome Society does not provide medical advice or recommend or endorse any specific treatment, therapy, practitioner or service.
If you would like more information about ACT ME/Chronic Fatigue Syndrome Society and what it offers, please email or phone 6290 1984 for an inquiry pack.
Quick Facts About The Region
Get Directions
Extra Information
Disabled access Parking, Toilets
Accessible By Anyone
Access Fee Contact us for details
Age Ranges All ages
Tags
Fibromyalgia, Myalgic Encephalopathy
Share with QR Code