General Disability Services
Making Connections Together
Making Connections Together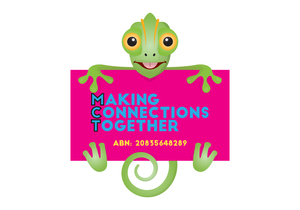 Mon 9:00 AM to 5:00 PM
Tue 9:00 AM to 5:00 PM
Wed 9:00 AM to 5:00 PM
Thu 9:00 AM to 5:00 PM
Fri 9:00 AM to 5:00 PM
Sat Closed
Sun Closed
Add to favourites
About Us
Making Connections Together is owned by an Accredited Social Worker. The service offers support to all people in the community. We offer a range of services and supports.
Michel has experience in Mental Health, Counselling, DBT, Group Work, working with Aboriginal and Torres Strait Islander People, Cultural Diversity People, the LGBTIQ+ community, the Aged and children.
Making Connections Together has the capacity to work with people of all ages.
Michel is happy to travel the whole of Canberra and surrounding areas, this includes, Yass, Murrumbateman, Goulburn and more. Michel is also happy to assist clients in Sydney. At this time Michel sees her clients in the community or at their homes as this promotes a safe and holistic approach to the needs of the client.
Michel is also working towards offering online support in relation to counselling, therapies and group work.
Michel also offers Reiki, Emotional Freedom Tapping (EFT) and is a Drumming Facilitator. Michel is currently offering groups in Health and Wellbeing, Daily Living Skills and Health and Wellbeing for the LGBTIQ+, more information is at www.makingconnectionstogether.com.au
Quick Facts About The Region
Similar Providers Nearby
Get Directions

Extra Information
Disabled access Disable toilets, Lift, wide doors into the office
Referral Required Contact us for details
Online Service Yes
Phone Service Yes
Accessible By Anyone
Access Fee Contact us for details
Age Ranges Under 91 years of age
Transport Notes
We meet with clients in their own homes and in the community or as of 18 January at level 1, 11-17 Swanson Court Belconnen ACT 2617
Tags
Allied Health, Assistance with Education, Behaviour Therapy, Borderline Personality Disorder, Disability, Mental Illness, Mindfulness, NDIS, NDIS Assistance with Social and Community Participation, NDIS Coordination of Supports, NDIS Finding and Keeping a Job, NDIS Improved Relationships, NDIS Provider - Registered, Reiki, Social Work
Share with QR Code
Making Connections Together is a NDIS registered Social Work service - NDIS Provider No. 4050029754. Michel is experienced in delivering counselling, NDIS Supports, Reiki, Emotional Freedom Tapping, Drumming Circles, workshops and training. Michel has interests in Transcultural Mental Health and supporting the LGBTIQ community. Michel is a qualified in DBT, CBT and EFT in relation to mental health and counselling supports. All services are available at our office at JAGA Swanson Court in Belconnen, in your home or the community. Making Connections Together has completed Covid-19 training and is a Covid Safe workplace. MCT aims to deliver services that are responsive to our Clients needs and currently offers services such as Emotional Understanding, Behaviour Supports, Social Integration, Managing Anxiety, Managing Sexual behaviours, DBT, CBT, EFT, Mindfulness and Relaxation and much more. Contact Michel to discuss your needs. Making Connections Together can also provide staff training in Behaviour training, Self-care, Mediation and Mental Health Meetings can be arranged at times and locations most suitable for the client and family (outside of regular business hours by prior arrangement). Our Office hours are Monday to Friday 9-5pm
Visit Making Connections Together website