General Disability Services
CODA Disability Support Assoc. Inc
CODA Disability Support Assoc Inc.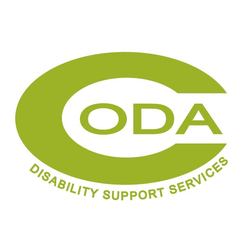 Add to favourites
About Us
CODA is an organisation that was established to meet the needs of families caring for an adult with a disability in their own homes. CODA South began it's respite service in 1991. We are funded by Department of Communities, with funding received through Community Care (formally HACC) and Disability Services.
CODA today is continuing to evolve into a service that recognises the continuing changes in lifestyles, and therefore endeavours to provide a flexible service that meets clients, carers and communities needs.
Established in 1989, CODA was founded by a group of concerned parents whose primary concern was the welfare of their sons and daughters with a disability, when they were no longer able to provide the level of support needed to maintain them at home. After successfully lobbying the local and state government, CODA was born, and became an approved association in September 1991.
Since its conception CODA has extended beyond it's in-home respite service to expand to innovative services designed to suit the individual needs of the person with a disability and their carers. Programs incorporating Community Participation and linking means that we are able to promote community awareness and support for people with a disability and their carers, and facilitate positive links with other organisations and associations, which are interested in the support of people with disabilities and their carers.
CODA fully supports and recognises individuals ability to make their own choices and decisions. We work with individuals and families to develop plans for support that recognises those choices and facilitates opportunities for growth and change.
CODA is now ready to embark on a journey of growth, and welcomes the changes to the industry under a National Disability Insurance Scheme (NDIS). We want to work collaboratively with you, to support you in a way that best meets your needs; with as little or as much help from CODA as you choose. Please contact CODA today, to see how we can assist you.
Quick Facts About The Region
Get Directions
Extra Information
Wheelchair Access Yes
Disabled access This location has disabled access
Accessible By Approved service users
Access Fee Contribution fee
Age Ranges All ages
Share with QR Code